Baby Chimps Kidnapped. It is time to help.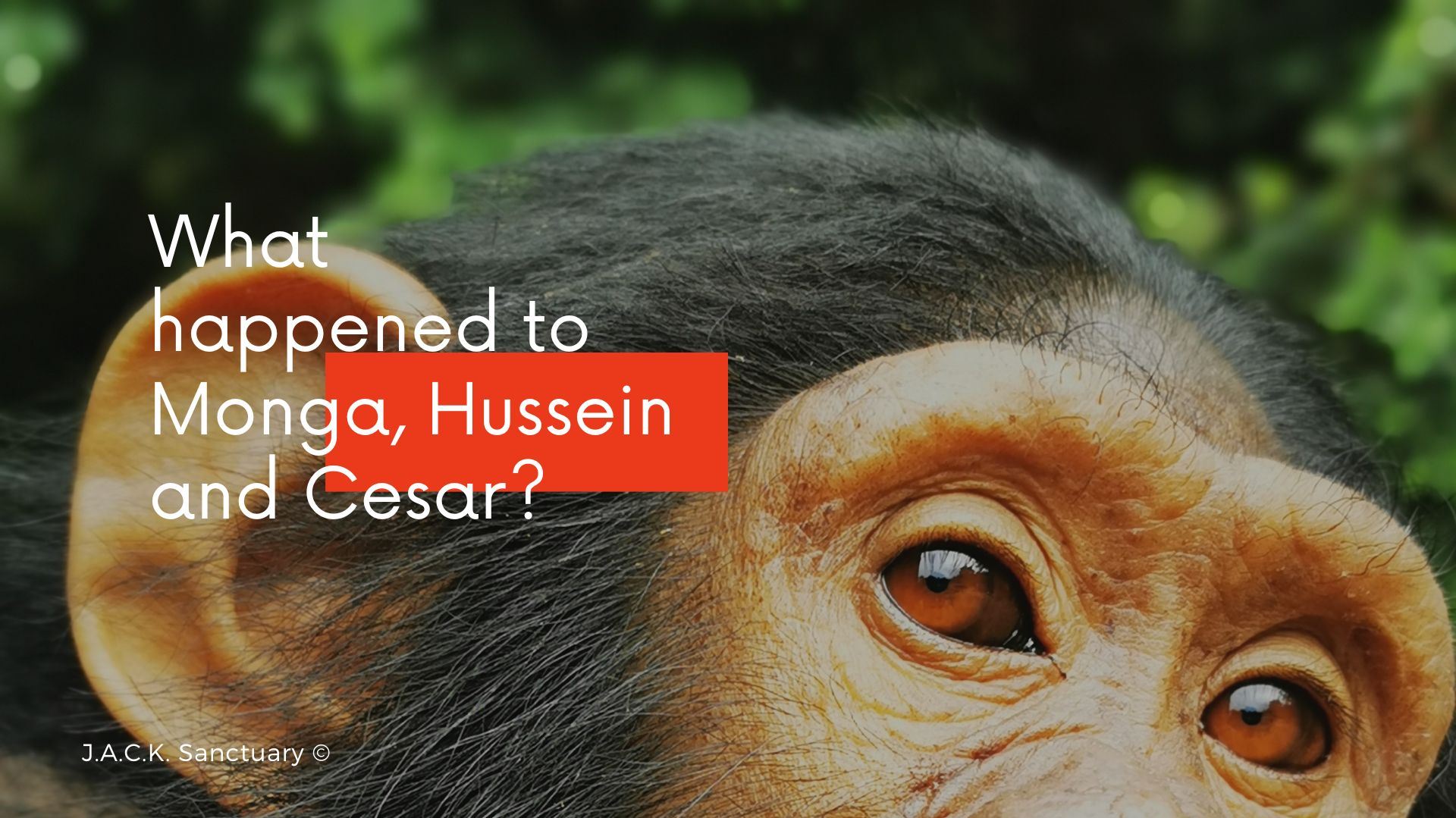 As many know. J.A.C.K. sanctuary chimps kidnapped. Help to protect the sanctuary.
$1,425
raised by 7 people
$5,000 goal
IS THE DAY!
Update posted 8 months ago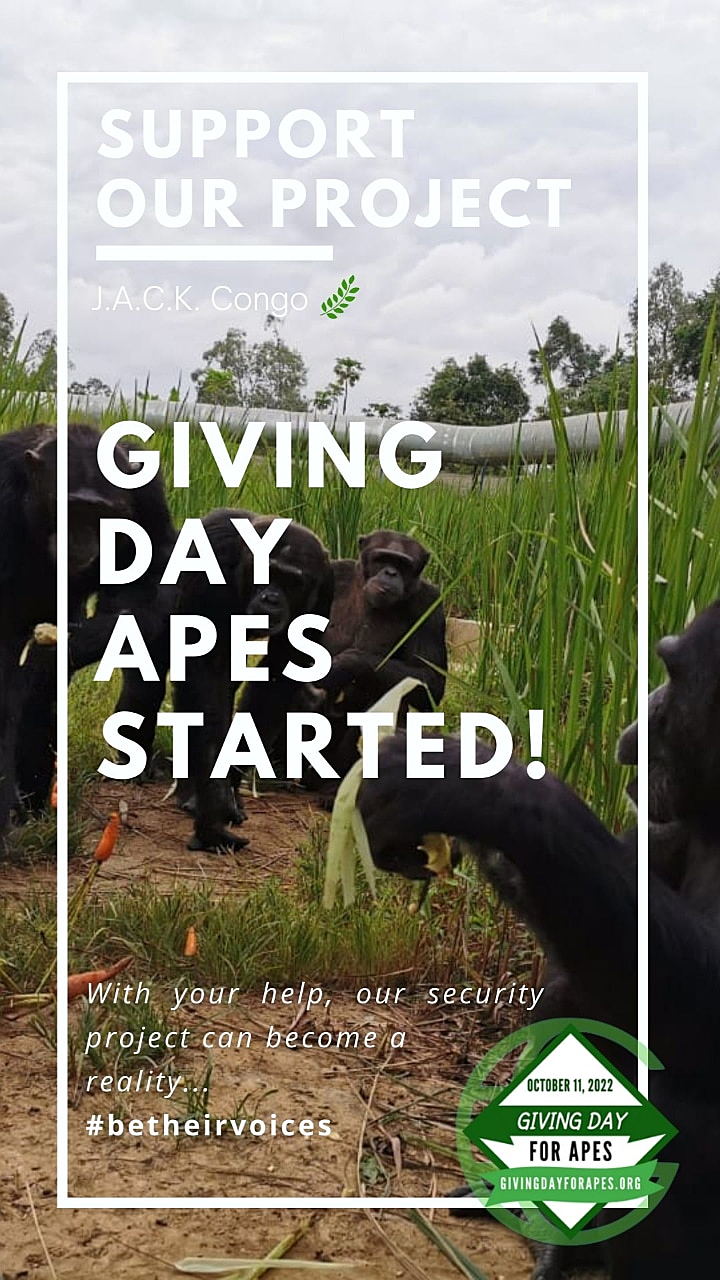 One day to give! Hope you join us.

Chimps Kidnapped
"the story the world is talking about"
On September 9 2022, something unprecedented happened in great ape conservation:
As it s very hard to find the words to start this campain. Monga, Hussein and César, three recently rescued orphan chimpanzees from JACK sanctuary were kidnapped earlier this month.
The family of Roxane and Franck (founders of the sanctuary) was threatened if they called the police.
Daily calls were given by the abductors to put additional pressure on the situation claiming they would decapitate one of the orphans and send the head at the sanctuary if we didn't pay the ransom... no words for this.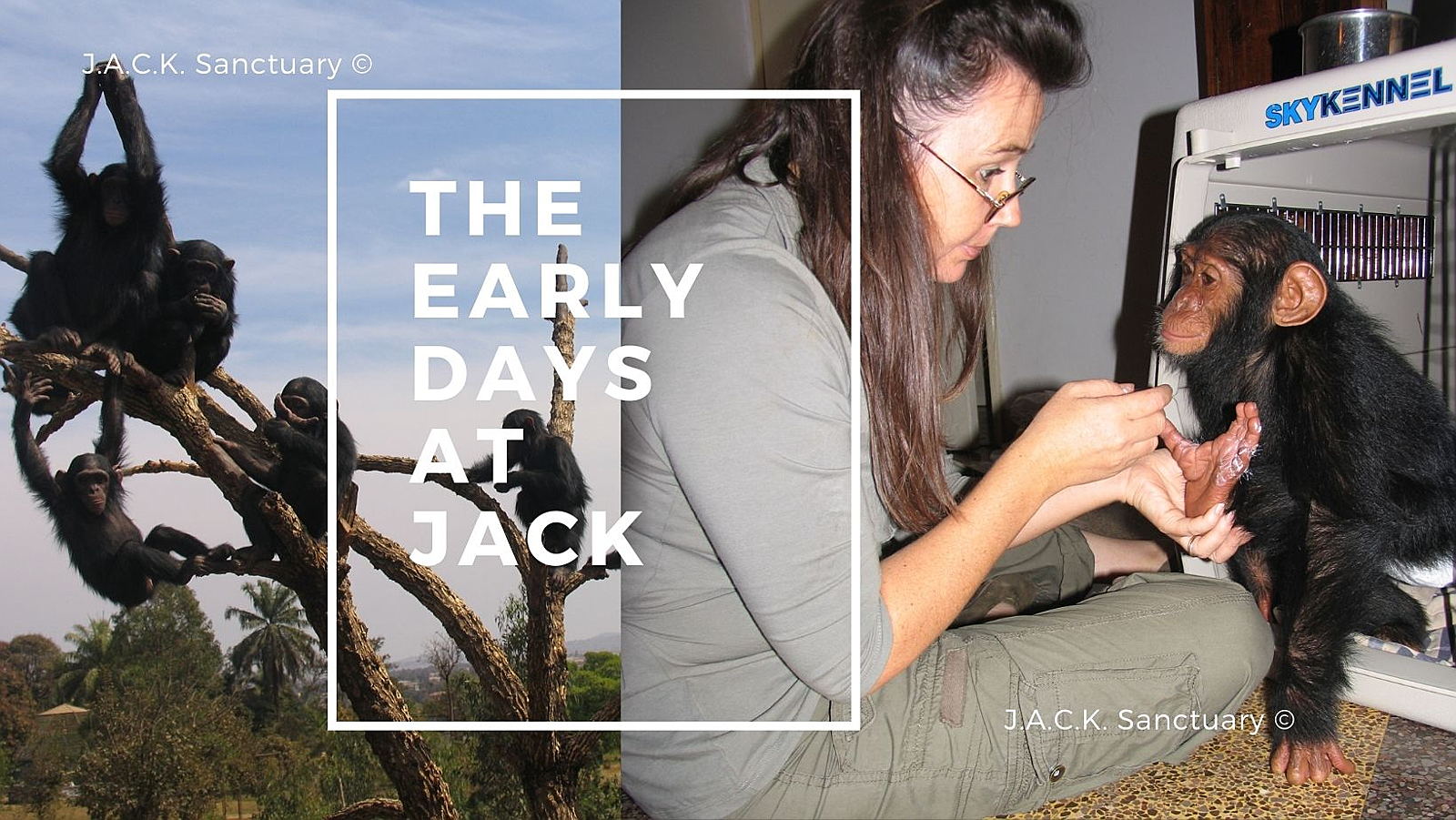 First sabotage : In 2006 during the fire caused by bandits two baby chimpanzees died.
Franck and Roxane are both the founders of the Congolese NGO rescuing endangered primates. Since they started J.A.C.K. they have known plenty of obstacles and a lot of challenges.
With the first arson of September 2006, this situation is the worst - the lives of three babies are in great danger and we rely on the investigation run by the local government.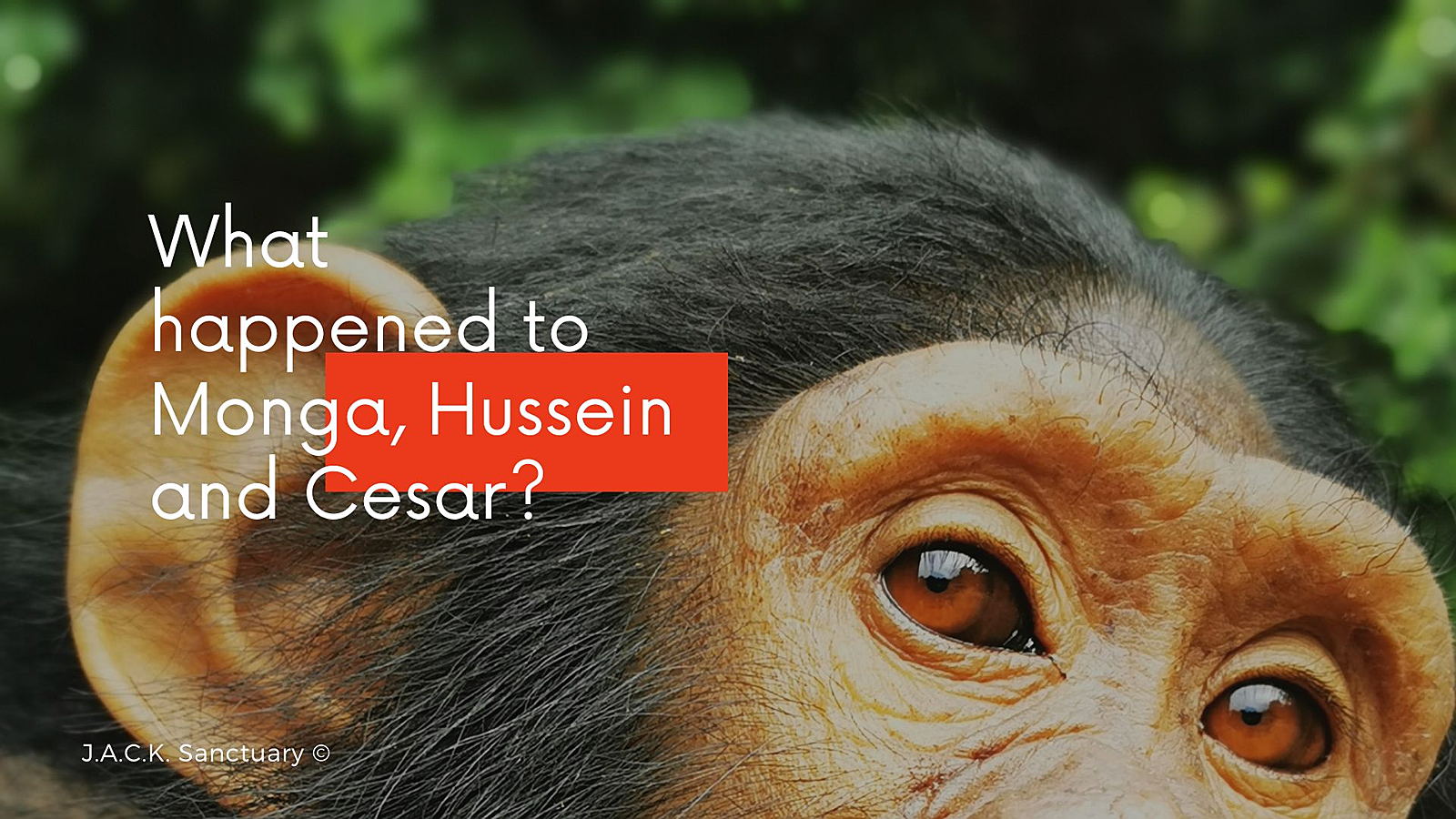 Frank and Roxane were so happy: Monga, Hussein and Cesar had recovered from all the abuse they had been through before arriving at J.A.C.K.
But Today, human's greed is traumatizing them again and giving them a hard time....
This tragic event is the first of its kind. It is indeed the first time apes are literally taken from a sanctuary to ask for money.Franck and Roxane feel desperate and lost.
They don't sleep any more. They hardly eat. Their minds are focused on these little ones as they don't know how the babies chimps feel, how the babies chimps are or if the babies are still alive.....
Making the difference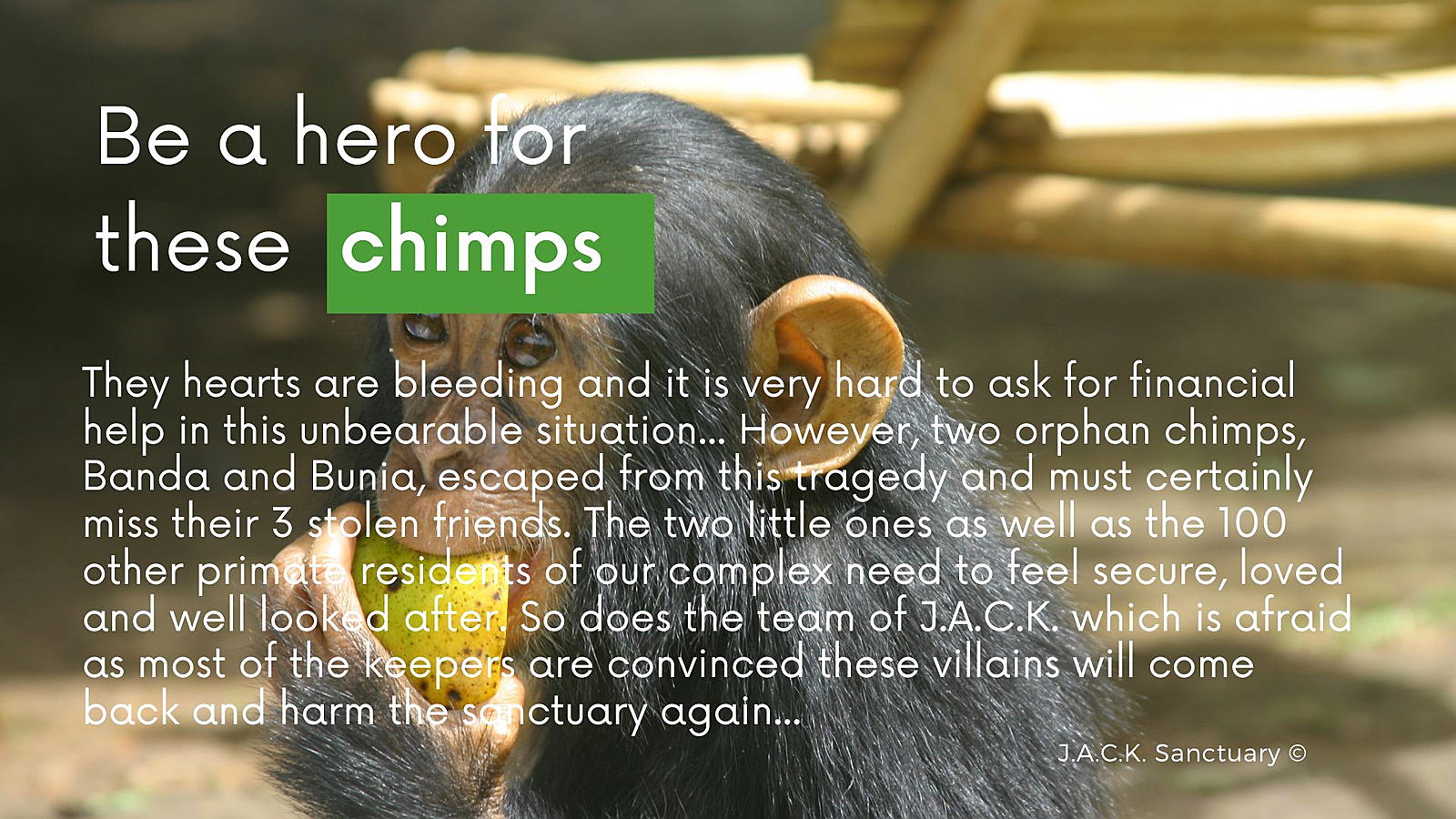 Again, this year, J.A.C.K. wish to compete in order to put additional security in and around the complex.
J.A.C.K. need to hire two more armed eco-guards (Ranges from the DRC National Parks).
Buy more security/surveillance cameras, barbed wires, strong padlocks, new door locks, handheld & mobile radios, etc.
They have already spent more than $ 5 000 in emergency.
Please, know that unlike last year and the years before, J.A.C.K. has been again kindly invited to participate to the GIVING DAY FOR APES event.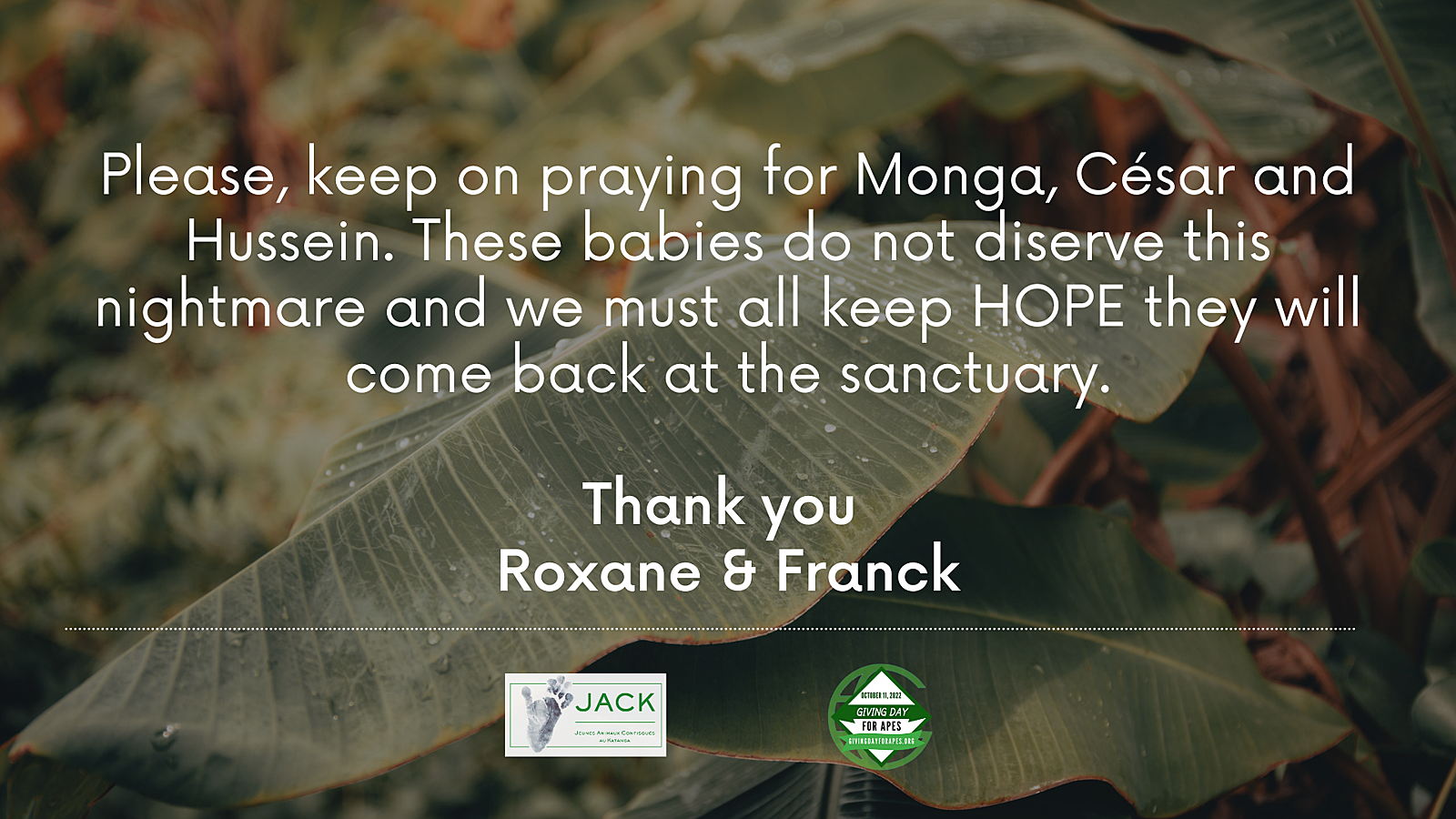 Delicate content:
Videos sent by the kidnappers.
---